ICS delivers service you can count on. Our skilled craftsmen have years of experience. We make sure your job is done accurately and on time. Let ICS be your first choice when it comes to your countertop needs.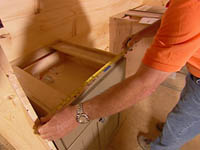 Measure Your Job
Indy Custom Stone will visit your home free of charge to measure your existing countertops. Based on these measurements, ICS will deliver a quote catering to your wants and needs within the next 24 hours. You will always be given a range of pricing for you to decide what best fits your budget.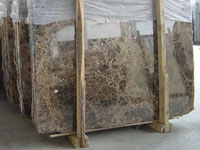 Choose Your Slab
Once Indy Custom Stone has determined your budget, you will be able to visit our supplier to hand pick your favorite slab of granite, quartz, or marble. Visiting the supplier in-person allows you to choose exactly what you want as veining in slabs can vary. If, for any reason, you are unable to visit our supplier in person, you can always choose your favorite color from our website and let ICS choose the best stone slab for your project.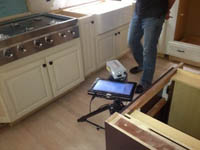 Laser Templating
This is where we go to work for you. ICS will come back to your house and perform our laser templating service on your existing cabinetry. We will then have a detailed digital template of your specific conditions. This process will ensure that your new stone countertops will fit with precision the first time.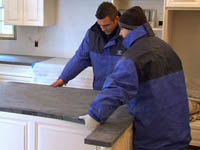 Installation
ICS will always schedule a time and date that is convenient for you to install your new stone countertops. Depending on the size of the job, the installation peformed by our certified technicians shouldn't take more than a few hours. ICS will always leave your home in the condition we came in except you will now have beautiful countertops that will last years to come!